Can you imagine getting a delicious taste and getting all the nutritional power from a single source? If yes, then kiwi is one tangy fruit that is the powerbank of nutrients and vitamins. Health benefits of kiwi include numbers C of nutritional content and antioxidant properties, kiwi fruit helps remove free radicals from the body. Kiwi fruit is treated as healthy food because it helps to fight against the severe health issues. Kiwi fruit not only encourages your taste buds but it becomes a health savor in your everyday life. Also we will discuss the number of benefits of kiwi fruit on skin, health etc.
This tasty looking fruit is not just good for salad but there are various irresistible properties of the same. Here are some benefits below:
1. Soothes your skin
Keeping yourself hydrated is the first and foremost step of starting your healthcare routine. The best benefits of Kiwi fruit is it is rich in vitamin C, E and folate which are proven to be healthy for our skin. Kiwi, is one of the numerous fruits, which provides your body with hydration because of its water content. Hence, soothing your skin and giving it a glowing and attractive appearance.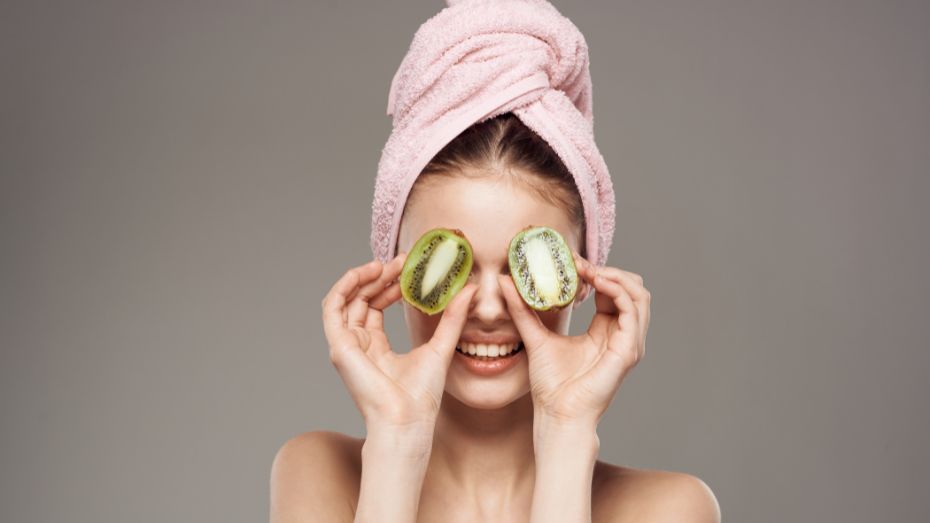 2. Exfoliator to The Skin
The numbers of antioxidant properties, fiber and bioactive components in this green pulpy fruit work as the exfoliators and remove the dead skin cells. This beneficial fruit helps you out in preventing skin discoloration and spots. You can either rub a piece of kiwi to your skin or make a paste out of it to apply it on your face.
3. DIY Packs Bringing Wonders To Life
If you don't trust the market products of kiwi then you can prepare a face pack in your home. Kiwi fruit can be combined with ingredients like lemons and almonds. Lemon and almonds both contain anti-inflammation and glow boosting properties that are beneficial for the skin. So, prepare an impactful face pack and utilize the benefits of kiwi on skin.
4. Reduction In Skin Damage
Pollution and UV exposure damages the skin and makes your skin look dull and rough. Kiwis are rich in phytonutrients, potassium and antioxidant properties which help in minimizing the skin damage and dullness. It eliminates the formation of free radicals and leads you to natural glowing and radiant skin.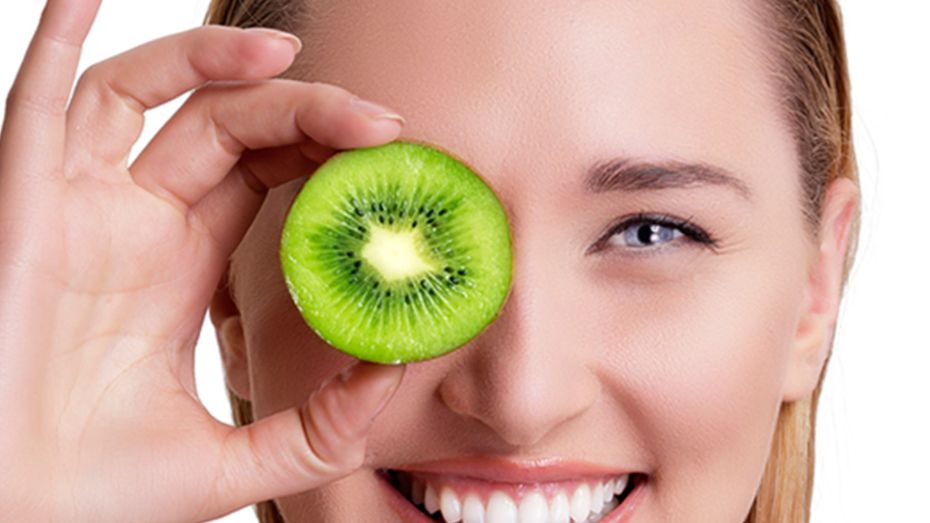 5. It gives an Oil Free Skin
Oily skin has been a major problem for the skin, oily skin results in pimples and irritation in the skin. Nutrients of kiwi balance out the sebum production in the skin and thus minimizes oiliness. Less oiliness means less chances of acne and pimples.
6. Removes Patches and Dark Circles
One of the best benefits of kiwi on skin is that vitamin C helps you correct the age spots as well as the patches. The antioxidant properties work together to reduce the hyperpigmentation and helps in reducing dark circles.
7. Minimize the risk of Premature Aging
It has shown impressive health benefits of eating kiwi at night as Prephenol present in this fruit helps you to reduce oxidative stress. Less stress slows down premature aging and removes scars from the skin.
Radiant Skin Hack: Prepare DIY Face Mask Using Kiwi Fruit
After reading all the excellent benefits of kiwi fruit on skin, you might wonder how I can integrate kiwi into my daily skincare routine? The answer is simple- prepare DIY masks for yourself and the different recipes for the masks are given below:
An Easy Peasy Kiwi Face Pack
It is no big deal to make a face mask out of kiwi. You just have to peel the fruit and bring out the green pulp and apply it over your face and neck. Let it stay for around 15-20 minutes and then wipe it off.
Kiwi And Almond Face Pack
Almonds are rich in glow boosting properties. Soak a handful of almonds for a night and make a fine paste with adding some gram flour to it. Take out the green pulp from the kiwi and mix it well. Wait till it gets completely dry. It will remove the dullness from the skin.
Kiwi And The Yoghurt Face Pack
Mash properly the green pulp from kiwis and ensure that no lumps are left in the paste. Add 1-2 tbsp of yogurt to the mix. Mix and make a fine paste out of it and apply it over your skin. After 15-20 minutes rinse it off and get the glowing and clear skin.
Kiwi And Lemon Face Pack
If you get tensed by the sun damage and tanning then surely this mix is going to superbly work for your damaged skin. Take a full fledged kiwi fruit and mix it with lemon juice and just some cotton pads to apply all over to your face and neck. After 15-20 minutes, wash it off with warm water.
Things to Consider
Well! The health benefits of kiwi are all known and understood but it is important to know the other effects of kiwi as well. Here are some concerning side effects of kiwi:
Overconsumption of kiwi can result in severe skin allergies, swelling in certain body parts, headache, rashes, hives, and breathing difficulties.
Researchers have recorded skin disorders with over eating of kiwis. Skin infection and severe skin issues like dermatitis, oral allergy, etc are encountered.
Last but not least, overuse of kiwi fruit can lead to digestion problems, leading to vomiting, nausea and diarrhea. It also causes fainting, bloating, muscle weakness, etc.
Conclusion
Here we sum up after exploring all the health benefits of kiwi, it is a lifesaver for our healthy well-being. This fruit enhances your taste buds and gives you immense advantages whether for the skin or for the health. Make sure to consume it in limited quantities as it sometimes results in allergies and health issues. All over analysis of kiwi fruit shows excellent impacts and promotes good health. So, if you are planning to enjoy kiwi fruit in your daily life then don't think twice, just go for it.
Frequently Asked Questions
What are the benefits of eating kiwi at night?
Eating kiwi at night results in better sleep and relaxes your mind full of tension.
What happens if you consume kiwi everyday?
Kiwi is filled with nutrients which gives us health benefits, so it is ok to consume kiwi everyday in moderation.
What are some side effects of kiwi fruit?
Overconsumption of kiwi results in skin allergies and digestive problems.
What benefits kiwi fruits give to the skin?
Kiwis help in reducing scars, dark circles, damaged skin, and give a clear and glowing skin.
How kiwi fruit can be involved in our daily lifestyle?
Eat one kiwi everyday and easily make it part of your lifestyle.